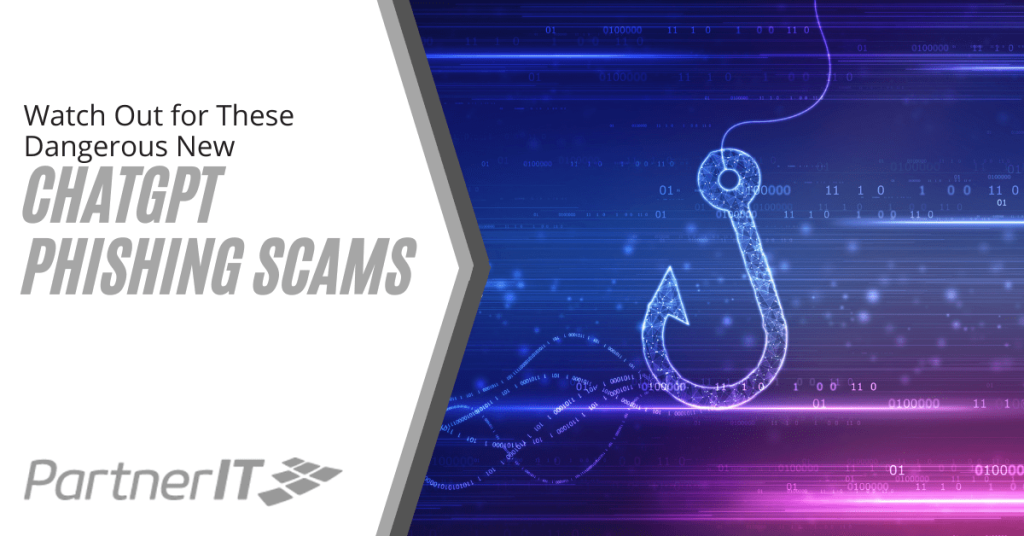 OpenAI launched its ground-breaking ChatGPT in November 2022, and it seemed like an offering the world had been waiting for many years. In just its first 5 days, it served over a million users, beating the likes of Instagram and TikTok. It quickly became a favorite among students and modern workplace employees due to its straightforward manner of answering questions and providing proper context answers. It also shortened work processes for some employees and generally made it faster and more streamlined.
However, while many people readily accepted it within academic circles and some workplaces, it was also readily accepted by members of the dark side, namely hackers and scammers. ChatGPT became the go-to option for defrauders to carry out phishing scams by writing emails that were easy to believe as true, causing confusion and wreaking havoc for some months before the truth was finally uncovered.
This article highlights some of these dangerous new ChatGPT phishing scams and gives you a way to avoid them and protect your business. Read on to learn about these phishing scams. But first, what is ChatGPT?
What is ChatGPT?
ChatGPT is a new radical AI natural language tool (akin to Microsoft Copilot) that generates text based on your question. ChatGPT can generate a good amount of specific content in much less time than usual, so many users prefer it to other AI content-generating tools. However, there are many issues surrounding this tool, and most of them are negative.
The Dangerous ChatGPT Phishing Scams You Need to Know About
Here are some dangerous new ChatGPT phishing scams you need to be informed about and how you can avoid them:
ChatGPT social media pages
While ChatGPT has been popular among internet users, it has used this opportunity to make its presence felt on social media by creating its official social media pages on numerous platforms to reach customers easily. However, this has caused threat actors to create pages similar to ChatGPT and deceive users by requesting personal information. As users must enter their numbers or emails to create accounts, scammers extract this information for malicious purposes and use it as their target.
Some are also using this instance to spread malware and orchestrate complex cyberattacks. Some experts have also detected several phishing websites being promoted by false OpenAI social media pages to spread malware when users download their versions of ChatGPT.
ChatGPT phishing scams
There have been many versions of language-text AI offerings over the years (most of them open-source), but ChatGPT is currently the most advanced AI option. ChatGPT's ability to easily hold a conversation without grammatical, spelling, and verb tense mistakes makes it as real as a conversation with an actual human.
However, this is precisely the characteristic that scammers and malicious actors are looking to take advantage of. Malicious actors who usually cannot speak and type properly and are not from countries that traditionally speak English only need to feed their phishing email request to ChatGPT, and they will get all the mistakes corrected. 
While people tend to recognize phishing emails by errors (spelling and grammatical), AI-generated emails contain errors, and such can pass off as the real deal. This makes it more difficult to recognize them, and more people get duped.  
These emails are then sent to peoples emails to deceive them into thinking they come from the staff of real companies, and people get duped as a result.
ChatGPT and malware
ChatGPT is also superb at generating basic computer code. However, most of these AI offerings are programmed not to generate code that is considered malicious or can be used for hacking. Anyone who directly requests hacking code will get a response from the tool that it cannot deliver code that does not conform to its ethical policies and guidelines.  
However, getting the basic code you need for malicious action is possible if you are an experienced programmer. With some sidestepping, malicious actors can deceive the AI tool into generating malicious code. This is now becoming a thing among hackers all over the globe, and some experts have caught wind of some malware strains that are being offered for sale on the dark web claiming to be gotten from ChatGPT.
Fake ChatGPT Apps
When ChatGPT released its app in February 2023, it was only released on the iOS platform. However, because most people were unaware of this, malicious actors decided to take advantage of this by creating and releasing fake apps on different platforms, most notably Android. This caused many users to download these fake apps and input personal details into these apps, creating loads of phishing app opportunities and causing panic.
Fake ChatGPT browser extensions
Browser extensions are essential in this age, and for a good reason. This is because these tools are very useful for online work when it comes to pictures, videos, and other forms of media. It is so good that it reduces a person's efficiency and productivity.
However, while many ChatGPT-supported extensions exist, malicious actors have begun to release fake apps with the same name. A good example is "ChatGPT for Google," released in March 2023. Most people took it up as an extension, not knowing it was fake. Meanwhile, it had been extracting Facebook details of users from their devices without their permission.  
How to Ensure You Are Always Safe From New ChatGPT Phishing Scams
Verify the legitimacy of every app and browser extension before downloading. 

Remember, the official ChatGPT app is released for the iOS platform only. There are no official ChatGPT apps for any other platform.

Check the URL.

Avoid sharing personal information.

Avoid clicking on links or downloading attachments sent by unknown or unverified sources.

Watch out for unusual requests.

Report suspicious activities.

Keep software updated.

Educate yourself.

Enable two-factor authentication or multi-factor authentication.

Trust your instincts.
Let Partner IT Improve Your Business Productivity with AI
AI is here to stay, and there are many ways you can integrate this tech with your business to improve your employee's productivity and efficiency. ChatGPT is one of the numerous AI tools you can use for this purpose. Get started with Partner IT today.